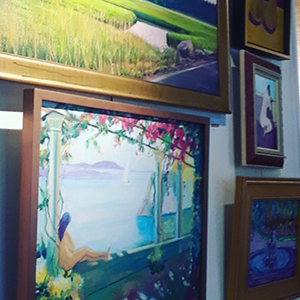 Zoe is a self taught and sat in various art classes and groups with master painter Sam Vokey and the belated Bill St. George. She has been painting contemporary oils on canvas for the last 16 years and previously started as a hobby in her teen years and high school. She loves to paint plien air and indulges in the use of color to represent nature, rich in context, color and imagery.

The abundance of color carries a strong energy in her impressionist style of painting. Her paintings convey the vibrant energy she holds within her spirit through the use of light, movement, color, peaceful, tranquil mood setting and self expression. Zoe graduated from Umass Boston with a Bachelors degree in English Literature and holds a graphic design certificate from Mass College of Art where she studied art history and painting. Many moons ago, Zoe had been a potrait art model for Master Painters at the school of Museum of fine art, Robert Comier, Robert Douglas Hunter at the Fenway art studios.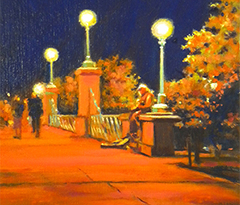 Patrick is a master painter and award winning aritst. He studied at Vesper George School of Art where he was taught by Boston School Painters and instructors at the time, John Terelak, Robert Douglas Hunter, Robert Comier, Paul Rahilly. He studied studio and plien air work privately with with John Terelak in his hometown Rockport, MA. Patrick's style is contemporary realism with strong painterly qualities. As a traditional realist painter, He has a fascination with light, both natural and artificial and its effects it has on many of his city subjects. His nocturnes may owe a nod to Edward Hopper in feeling.
He is a member of the Copley Society of Boston where in 2004 received the Sagendorph Award for excellence in Realism. He won the Roddy award for his Mid Summer's Eve oil painting at Concord Art Association. Patrick has been a participant in the annual regional painting competition at The Boston Artist Guild for the past four years. The painting Neighbors, oil on canvas, was chosen by the Cahoon Museum of American Art, Cotuit, MA, in 2010 for an exhibition on how American artists of the past and present have used the window.
Patrick is hard working, disciplined and strives to be a master of capturing an amazing light in his paintings. His work has been collected by the Langham Hotel and has been mentioned in the Beacon Hill Times, the Boston Globe and In 2004 published by the International Artists Publishing Inc. His work is Collected nationally and internationally, many have said that his cityscapes and scenarios capture a romantic nostalgic feeling and a true sense of Boston. Magnificent color and technique are visible throughout his work.