Hours
MON - FRI - BY APPOINTMENT
WEEKENDS
SAT 11AM - 2PM
SUN 12PM - 5PM

SCHEDULE MAY BE ALTERED OVER HOLIDAY
LOCATIONS
INFO@THEHIDDENARTGALLERY.COM
617-419-0527
25 MYRTLE STREET BEACON HILL, BOSTON, MA 02114
ORIGINAL OILS FOR SALE found in The Hidden Gem of Beacon Hill.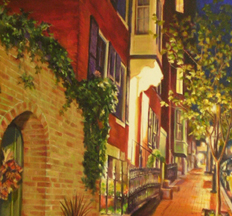 Contemporary cityscapes and abstracts oil paintings by local artist in a quaint private setting for viewing.
• For your Office, Home or Private Venues
• Enrich and Energize Your Environment with Colorful Original Oil Paintings
A portion of proceeds from all sales of paintings sold will benefit everything matters film (www.everythingmattersfilm.com). The Art will be displayed offsite at JP licks throughout the month and can be purchased on-line.
Visit website: http://thehiddenartgallery.com/shop
The Hidden Art Gallery is open 7 days a week. Please visit in person or Feel free to call 857-919-4278
Affordable prices, certificates are available and can be purchased on-line or call.

A Mid Summer's Eve II, 24 x 30 Oil on Canvas $5700
A Sunset sky setting on the Charles River in Boston.
Very warming and harmonious. Brings a sense of joy,
sweetness and leisure entertainment.
By Patrick Anderson




Mt. Majesty I, 8 x 8 Oil on Canvas $250
A slight tough of pink rose color on the
moon pulls you in and creates a sense
of inner peace in the heart and the depth
of the blue mountain in very subtle paints,
captures the various layers of colors in
lilacs reflection on the water.
By Zoe Arguello